LENSAR, Inc., developers of next generation femtosecond laser technology for refractive cataract surgery, have announced its receipt of 510k clearance from the U.S. Food and Drug Administration (FDA) for a suite of five new application technologies incorporated in the company's LENSAR Laser System flagship product, heralded as the first femtosecond laser cataract platform to enable automation of several surgical procedure planning and execution elements.
The Five New Laser System Application Upgrades Include:
Wireless integration with the i-Optics Cassini Corneal Shape Analyzer
Iris registration
Cataract density imaging
Customized fragmentation patterns
Arcuate incision planning
"The addition of the Streamline advanced technology suite solidifies our LENSAR Laser System as the femtosecond platform of choice for todays refractive cataract surgeon," says LENSAR CEO Nicholas T. Curtis. The five distinct upgrades to the platform include innovative integration of functions unique to the LENSAR Laser System that, for the first time, allow surgeons to fully automate and customize critical planning and execution steps of refractive cataract surgery. LENSAR's Laser System next-generation femtosecond laser technology for refractive cataract surgery offers cataract surgeons precision and accuracy, while optimizing overall visual outcomes. The proprietary Augmented Reality technology, LENSAR's reconstructed 3-D imaging, measurement, and guidance system, offers quick and easy patient docking and provides high-resolution ocular images in a single scan. This technology provides enhanced procedure outcomes by allowing the physician to develop individualized treatment plans including precise laser delivery and efficient lens fragmentation that can reduce, and potentially eliminate, phaco energy, and facilitates precise surgical incisions and treatment for ultimate accuracy and reliable outcomes, all in a single procedure room.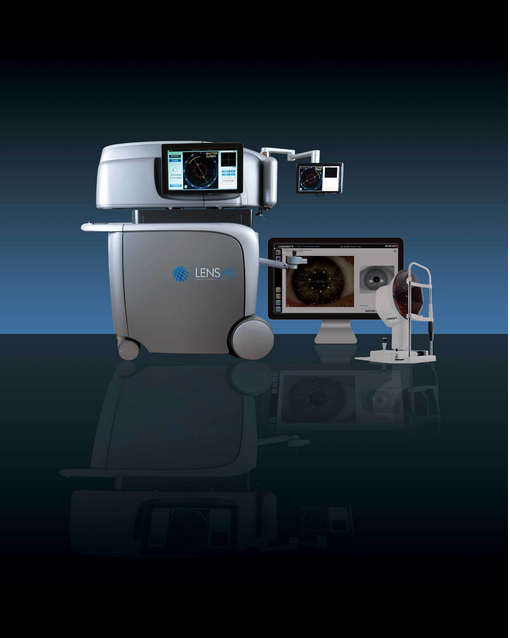 LENSAR's Laser System also offers what it claims is the industry's smallest laser footprint and thoughtful ergonomic design that accommodates most operating rooms.
LENSAR will be demonstrating the LENSAR Laser System with Streamline at the American Society of Cataract and Refractive Surgery Annual Meeting at the San Diego Convention Center, April 18 – 20, in booth #1750. For a complete schedule of LENSAR-sponsored activities at ASCRS, visit http://www.lensar.com/ascrs2015/.
LENSAR Laser System uses the same proven laser technology that's been used in LASIK procedures for over a decade. Other benefits include a unique, high-resolution, 3-D view of the patient's eye that allows the surgeon to tailor treatment, which can improve visual outcomes. Superior imaging using Augmented Reality technology provides a sophisticated 3-D reconstruction of the relevant anterior segment, allowing for precise laser delivery and surgical confidence for accurate corneal incisions, free-floating capsulotomies, and efficient lens fragmentation for all grades. By combining superior imaging of the anterior segment, precise laser placement, and efficient lenticular fragmentation, the LENSAR Laser allows for a reduction in phaco time and up to 100% reduction in phaco energy. The LENSAR Laser System is the first femtosecond laser cataract platform to establish a wireless integration protocol with preoperative diagnostic devices, and this latest upgrade allows for complete connectivity of pre-op diagnostics with the laser procedure, cataract removal, and post-op diagnostics, resulting in the ability to optimize patient outcomes
LENSAR is initiating this capability with the Cassini Corneal Shape Analyzer that enables wireless transfer of data from preoperative corneal measurements to the LENSAR Laser System. This new integration eliminates potential errors that can occur from manual entry of data from the device used in the preoperative and surgical planning process. The integration with Cassini enables the capture of preoperative iris registration data, and maps it to the image of the eye obtained under the laser at procedure time, eliminating the need to manually ink mark the eye to identify and adjust for the cyclorotation that may occur when a patient is reclined during surgery.
"Creating an integrated technology approach to the femtosecond cataract procedure is something we refractive cataract surgeons have been waiting for, and it doesn't surprise me at all that LENSAR was the company to get it done," says Jonathan Solomon, M.D. surgical-refractive director at Solomon Eye Associates in Maryland. "I anticipate LENSAR's Streamline will improve not only OR efficiency and patient experience during the procedure, but may also improve outcomes by minimizing the human factor inherent in manual data input or physically marking the eye pre-operatively."
Dr. Solomon has been acknowledged by GQ Magazine in their Men of the Year issue, is recognized nationally as one of the Top Doctors in America by his peers, and was listed as one of Baltimore-Washington's Super Doctors for 2013. As a fellow of the American Academy of Ophthalmology, American Society of Cataract and Refractive Surgery, and International Society of Refractive Surgeons, Dr. Solomon continues to be an active contributor to the ophthalmic community, also serving as an executive board member of the Maryland Society of Eye Physicians and Surgeons, and maintaining an affiliation with the University of Maryland as the official Terps LASIK surgeon. He is also a founding member of the AmericanEuropean Congress of Ophthalmic Surgeons and serves on the Accreditation Board and as a member of the distinguished Cornea Society. Dr. Solomon works closely with leading manufacturers of precision surgical equipment, including instruments and intraocular lens implants, and engages in a variety of studies.
Additionally, for the first time, with the LENSAR Laser System surgeons have access to an arcuate incision planning table on the laser that includes defined parameters for location, depth and extent of the surgeon's intended arcuate incisions, based on individual patient biometric measurements and other factors defined by the surgeon. The arcuate incision planning capability allows surgeons to retain their plan preferences for later use, increasing surgical operating room efficiency.
The Streamline upgrades also introduce integrated cataract density imaging, which automatically categorizes the cataract to a pre-programmed, surgeon-customized fragmentation pattern depending upon the density of the cataract and allowing the surgeon to automatically isolate fragmentation to the nucleus — innovations that may have positive impact on efficiency and procedure time.
"LENSAR has given the reins to the surgeon to make the laser-assisted refractive cataract procedure customized to both patient and surgeon needs," says Robert Weinstock, M.D. , director of cataract and refractive services at the Eye Institute of West Florida and The Weinstock Laser Eye Center. "The ability to preprogram the laser just one time with a surgeons specific preferences for fragmentation patterns based upon an automated cataract density analysis and customized arcuate incision plans may increase the efficiency and accuracy for every procedure thereafter, enhancing patient comfort and, ultimately, visual outcomes."
Dr. Weinstock is also is an associate clinical professor of ophthalmology at the University of South Florida, and serves as the Surgical Director of the Largo Ambulatory Surgery Center. He was named one of 250 in Premier Surgeon's List of Leading Innovators of 2010 for his contributions to cataract surgery and premium IOLs., and is continuously engaged in clinical research and studies to evaluate new technology, many of which are sanctioned by the FDA. Dr. Weinstock is recognized internationally as an expert on new implant technology and microincisional surgical techniques.
In addition to performing thousands of vision correcting cataract and LASIK procedures each year, Dr. Weinstock speaks and teaches nationally and internationally on customized cataract surgery and surgical innovations.
Streamline upgrades, including the arcuate incision planning, cataract density imaging and customized fragmentation patterns, will be made available to all LENSAR users. The full Streamline technology suite will be available to practices currently using both the LENSAR Laser System and the Cassini Corneal Shape Analyzer.
With the FDA clearance of the five new application upgrades, offered as the Streamline upgrade, the LENSAR Laser System becomes the first to offer automation and customization of essential steps of the refractive cataract surgery procedure. The LENSAR Laser System, has been cleared by the FDA for anterior capsulotomy, lens fragmentation, and corneal and arcuate incisions. For other indications it is an investigational device limited by U.S. law to investigational use only.
For more information, visit:
http://www.lensar.com
Sources:
LENSAR, Inc.
i-Optics
Solomon Eye Associates
Eye Institute of West Florida
Image Credits:
LENSAR, Inc.
i-Optics
Solomon Eye Associates
Eye Institute of West Florida
American Society of Cataract and Refractive Surgery
We are sorry that this post was not useful for you!
Let us improve this post!
Tell us how we can improve this post?